strives to imagine, produce & create pleasantly digestible and personally enlightening events, products & content.
We believe in fostering intention, a mental state and commitment to carrying out an action or actions in the future that requires planning and forethought. Our goal is to get people talking, which gets them thinking, which leads to increased receptivity to new information and a better memory of the decision-making process. We want to help you set intentions for your life.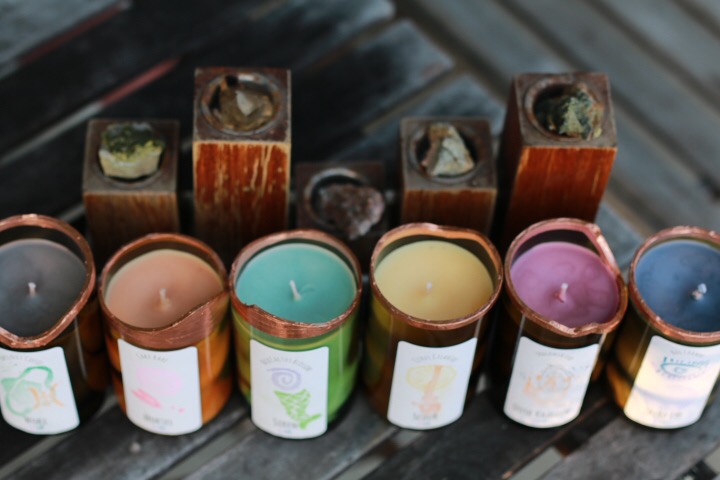 "I loved the event! I invited friends and we had a great Sunday afternoon together. The activities were relaxing yet mentally stimulating. I definitely appreciate the way Kaija has structured her workshops."
— Michaela, Workshop Attendee
Our July workshop @ Gianni Buonomo Vintners!
SIREN
Baja Cactus Blossom is a blend of fresh white flowers, green cactus stems and sunkissed coconut. The smell brings to mind carefree days at the beach—thus, the image of the beautiful and charismatic mermaids. Today, many see these mythological creatures as bright and breezy, with long hair worn loose and flowing...or maybe in a fishtail braid. But in antiquity, they were dangerously compelling symbols of both beauty and terror. The half-divine, half-human Sirens of Greek legend lured sailors to jump into the sea or shipwreck in shallow waters. Some modern media still pegs mermaid characters as cold hearted and malicious, but there's one who's always reversed the trope. In Disney's The Little Mermaid, Ariel is brave, curious, and willing to make sacrifices to pursue the love and life she wants. The original tale by Hans Christian Andersen is a lot darker, but his little mermaid is just as inquisitive and selfless. Whatever else, sirens are universally recognized symbols of the feminine mystique, the beautiful loner, playful and free within the bounds of a body of water that extends farther than the eye can see.
C.L.H.B.
C.L.H.B. is perfect for Type A's, indigo children, and social media influencers alike. Lavender, aromatic and clean, is a basic top note in perfume and has been a popular herbal remedy and aromatherapy scent since forever. Sandalwood, its sweet and woody counterpart, has been used in religious and spiritual traditions of India for the last 4,000 years.
Together? Oh la la. You love this scent. Everyone loves it. It's a nice floral musk...almost too nice. You like it so much you don't want to like it. The Crystal-Loving Hippie-Bitch is the manic pixie dream girl, SoCal edition. She's that chick next to you in yoga who can touch her foot to her head in dancers pose, drinks kombucha like its water, and wears necklaces that are both on-trend and totally her. You followed her on Instagram once, but the constant reminder of her perfectly curated life led you into a series of downward spirals that peaked in a wine drunk social media app deleting spree complete with manic laughter and tears of pain. She seems nice but you wouldn't really know, because you don't really know her.
Mater Draconum
In times long past, a blend of sweet and spicy notes was created from the resin of the Dragon's Blood tree. Earthy and powerful, the scent has a practical history as an ingredient in dyes, toothpaste, varnish, ink, and medicines. Yet it has as well a mystical past as part of shamanic, pagan and folk magic rituals. The Dosh Khaleen of George R. R. Martin's Song of Ice and Fire universe fulfill both practical and mystical purposes in the Dothraki culture. The wives of fallen horselord kings, they are destined to live out the remainder of their days in their nomadic people's only city, serving as seers and spiritual leaders. They are trapped, but trapped on a pedestal; their voices are respected, but their visions feared; they negotiate the fates of others, but not themselves. While warlike men rule the Dothraki, the Dosh Khaleen uphold the traditions and structures that sustain their society. Not for the faint of heart, Dosh Khaleen is perfect to intimidate houseguests or plan world domination from the comfort of your living room.